True Colors DANCE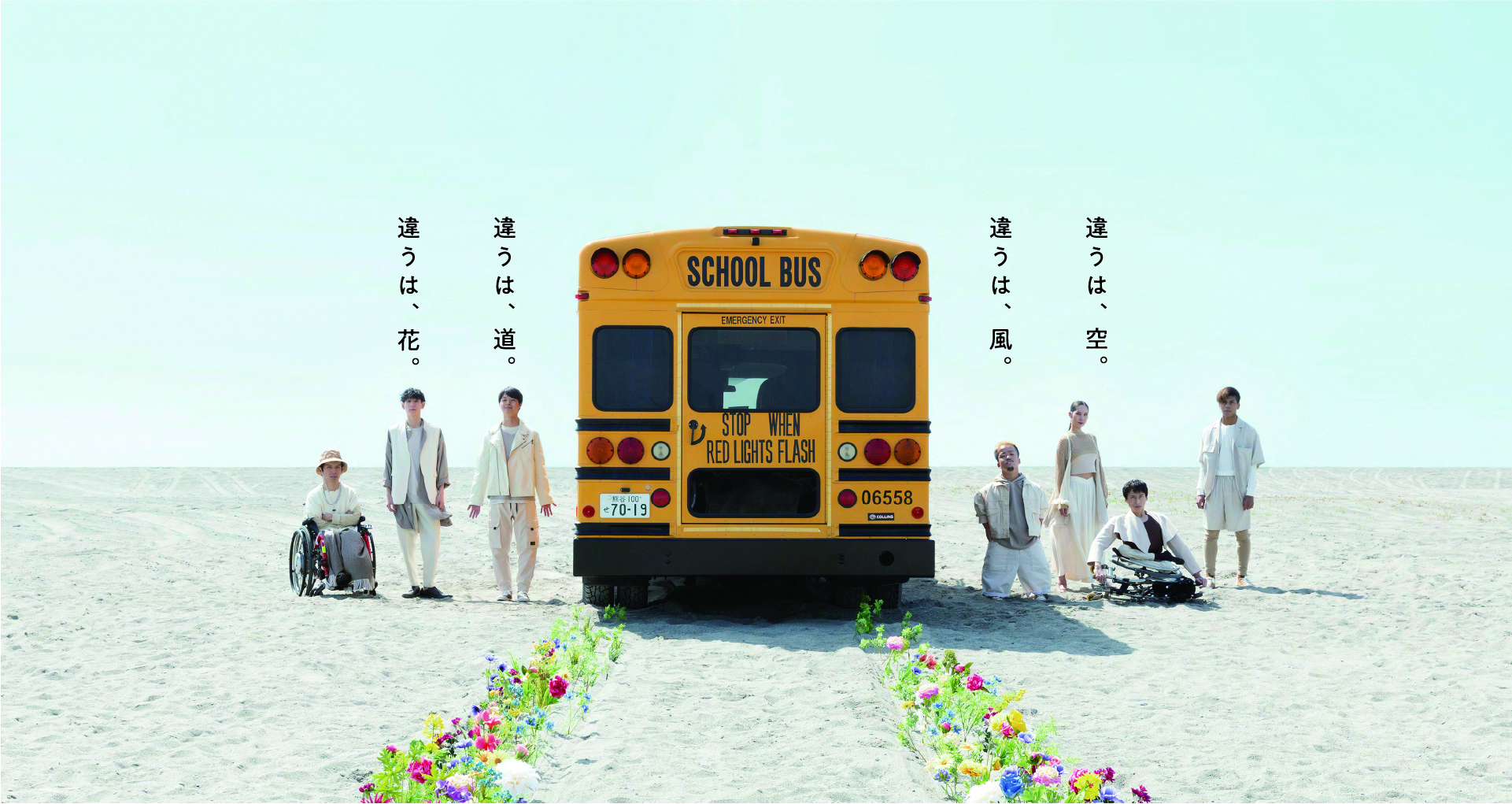 From April 2022, True Colors Festival hits the road on its latest adventure! True Colors CARAVAN will traverse seven cities around Japan in a bright yellow school bus!
Stay tuned as CARAVAN reaches your city, celebrating and sharing experiences of diversity, and revealing how amazing life can be when everyone's included!
A special troupe will accompany True Colors CARAVAN – the CARAVAN performers. Led by DAIKI, Japan's first Krump dancer with dwarfism, the troupe features Kenta Kambara, a wheelchair dancer and aerial performer who performed at the opening ceremony of the Tokyo 2020 Paralympic Games; Kanoken, a street dancer with a hearing impairment; Eri, a ballet dancer; Yusei Tekoe, a freestyle dancer; HARUKI, a human beatboxer living with mosaic Down syndrome; and Keita Tokunaga, wheelchair DJ and fashion journalist. Expect different performances in each city as the troupe's acts grow and evolve with local guest performers.
Since December 2021, SCHOOL of LOCK!, Tokyo FM's radio show, has commenced SOCIAL LOCKS! – a new segment in collaboration with True Colors Festival.
| | |
| --- | --- |
| Organizer | The Nippon Foundation DIVERSITY IN THE ARTS |
| Supported By | The Nippon Foundation |
| Planning & Production | WR inc. |
| Main Sponsor | Tokyu Group, Tik Tok |
| Participating Sponsors | Facebook, Twitter Japan INC., Yahoo Japan Corporation |
| Broadcasted By | Tokyo FM Broadcasting Co., Ltd |
| With special support from | Japan Disability Forum |
| | |
| --- | --- |
| Creative Director & Planner | Hiroki Morishita(WR) |
| Event Director | Hiroki Matsumoto (WR) |
| Accessibility Director | Hiroki Nishimoto (WR) |
| Project Manager | Aki Yamaoda (WR) |
| Assistant | Tomoko Tanimoto (WR) |
| | |
| --- | --- |
| Creative Director | Hiroki Morishita (WR) |
| Copywriter | Hiroshi Ando |
| Art Director | Chie Kakinuma |
| Photographer | ABIKO Sachie |
| Movie Director | Hiroteru Matsuda |
| Movie Producer | Takashi Shirayama (SINGALLERITY) |
| Movie Cameraman | Shun Hanawa (SINGALLERITY), Kenichi Yamada |
| Movie Assistant | Naoki Arima |
| Movie Music | Masumi Muranaka |
| Illustrated Character | Jin Kitamura |
| Costumes and Stylist | Miki Nakamura |
| Hair and Make-up | Junko Usami, Takeshi Tanimoto |
| Photographic Art | Shinichiro Abe (ASILART) |
| Assistant | Tomoko Tanimoto (WR) |
| | |
| --- | --- |
| Direction & Choreography | DAIKI, Makiko Izu |
| Music | Masumi Muranaka |
| Costumes | Miki Nakamura |
| Performers | DAIKI, Kenta Kambara, Kanoken, Eri, Yusei Tekoe, HARUKI |
| DJ | Keita Tokunaga |
| | |
| --- | --- |
| Production and Management | Hiroki Matsumoto (WR), Katsuhide Hayakawa |
| Accessibility Director | Hiroki Nishimoto (WR) |
| PR | Kim So Yeon(uknit) |
| Publicity | Rena Hirabaru (mazecoze Laboratory), Yamaoda Aki (WR) |
| Decorative Arts | Ryouhei Murakami (studioBOWL) |
| Design & Set-up | Syuuhei Watabe (Shimizu Octo, Inc.), Daiki Nishizaki (Shimizu Octo, Inc.), Takuya Okamoto (Shimizu Octo, Inc.) |
| Sounds | Takanori Imai (AiDE), Yuko Sakurai (AiDE) |
| Lighting | Motohiro Oi (LIGHT COSMO) |
| Imaging Equipment | Hiroyasu Nagafuchi (Strawberry Media Arts) |
| Power Supply | Keiji Kanda (First) |
| Equipment | Takuma Higuchi (NISHIO RENT ALL) |
| Vehicles | Sei Nakabayasgu (R.system), Soshi Tanaka (R.system) |
| Management | Yuka Sogabe |
| | |
| --- | --- |
| Audio Guide | Yuka Funamoto, Kazumi Suwa |
| Japanese Subtitles | NHK-Global Media Services, Inc. |
| Sign Language Interpreter | Eri Nasu, Makoto Takei (Kokorooto) |
| Sign Language Interpreter Cooperation | Aki Takizawa, Meishinren Information and Culture Center for the Deaf, Hiroshima Federation of the Deaf, Hokkaido Federation of the Deaf, Hokkaido Sing Laguage Interpreter Dispatch Center Ishikari, Osaka Deaf Center, Physical Disability Welfare Association Kitakyushu, Oita Hearing Impaired Association |