Defying paralyzation and being born without hands, they charm the world—a conversation between guitarists Showji Kawasaki and Johnatha Bastos.
December 21, 2022
"How do they play that?" — have you ever been surprised after attending a True Colors Festival show? It seems the same question arises even between performers.
Showji Kawasaki, who performed this year at the True Colors Festival in Azerbaijan in June, and SPECIAL LIVE in September, showcased a riot of tones and techniques that brought the audience to a craze.
He came to us in November with a sweet proposal. He wanted to chat backstage with the short-armed guitarist/pianist, Johnatha Bastos, performing in the True Colors Festival THE CONCERT 2022. It turns out that Showjii picked up the guitar after seeing a musician play the guitar with their feet, just like Johnatha.
An audience could have had the same urge after seeing SPECIAL LIVE and THE CONCERT. We jumped to this rare occasion where the guitarists met and documented them, chatting about playing techniques, the difficulties that led before perfecting their style, and the joy of playing music.
---

From left to right: RIMI, Showji, and Ayaka Hirahara at the SPECIAL LIVE performance.
Showji Kawasaki
He was born in 1967 in Nagano Prefecture. His life in a wheelchair began in childhood after a fever of unknown origin caused paralysis in his limbs. He plays the guitar by holding the neck from the upside. At the True Colors SPECIAL LIVE on September 22, 2022, he collaborated with Yusuke Anazawa and Ayaka Hirahara.

Johnatha's guitar performance at THE CONCERT. (C)True Colors Festival THE CONCERT 2022
Johnatha Bastos
He was born in 1994 in Brazil. Born without both hands, he plays the piano with his arms and chin and the guitar with his feet. He gave a guitar and piano performance in collaboration with his mother, Simone, on vocals at THE CONCERT, held on November 19 and 20, 2022.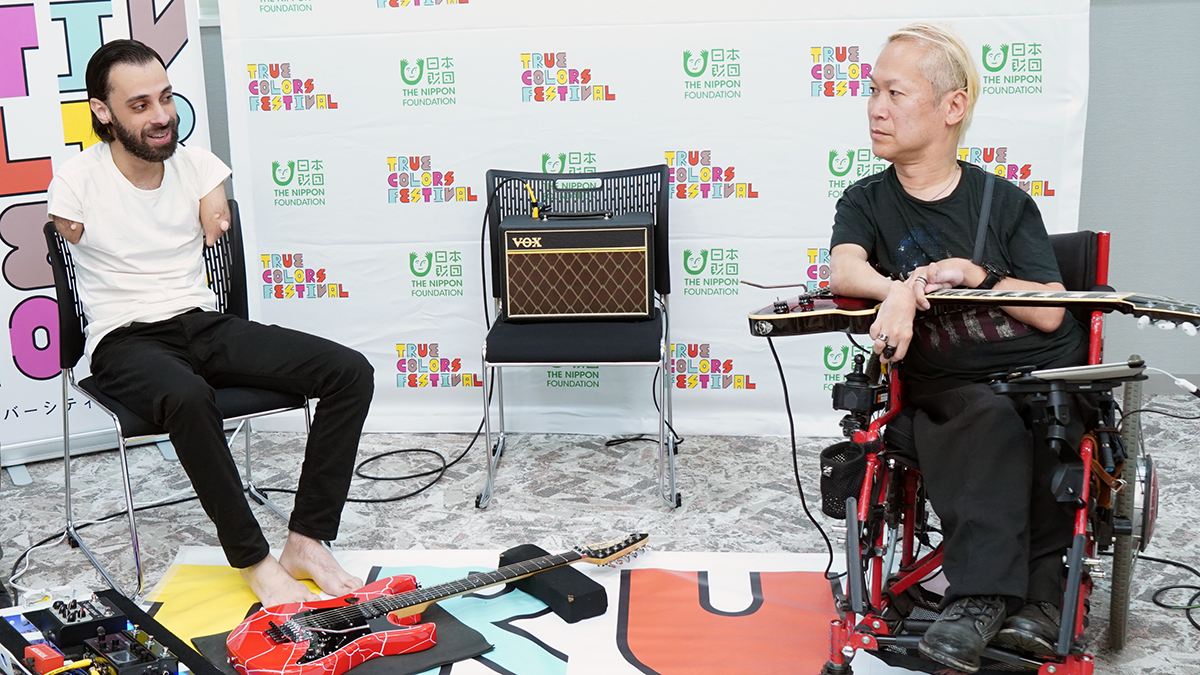 The conversation took place on November 20, 2022, before the second performance of THE CONCERT. Photo: Shinya Watabe
"If they play with their feet, maybe my hands could play."
Q: What did you think of Johnatha's performance yesterday at THE CONCERT?
Showji: I saw his performances onYouTube, but shows in person are much more powerful. Not to mention the great tone, his demeanor was terrific too.
Johnatha: Thank you. Likewise, I had seen Showji's performance onInstagram, and I was stunned by the beautiful tone.
Q: What pushed you guys to pick up the guitar?
Johnatha: I have loved rock since I was little, and I begged my mom to buy me a CD by a band called Oficina G3. At first, I played the drums, but I switched to guitar around 14 or 15. When you think of rock, it has to be the guitar, you know?
Showji: Yearning for the guitar, did you quickly think of playing it with your feet?
Johnatha: My mom had placed the guitar on the floor, so I tried it with my feet. I did my daily routines with my feet, so I thought playing the guitar wouldn't be hard. The skin on my arms is tender, which also made sense to play with my feet.
Showji: I saw Led Zeppelinin junior high and idolized Jimmy Page. However for me, I had given up even before I started. I didn't think I could play the guitar. So it was just listening to records and watching videos. But one day, I saw a guitarist on TV playing with his feet, like Johnatha does, which blew my mind. I couldn't figure out how the guitarist was playing the instrument, but if someone played with their feet, I thought maybe my hands could play. I was looking forward to having this chat with Johnatha today.
Johnatha: Hearing your story, I'm thrilled to show you my playing. I understand how performances by musicians with disabilities bring encouragement and inspiration.
Q: When you, Johnatha, began playing the guitar, did you also refer to other musicians playing with their feet?
Johnatha: I didn't know anyone when I first began. About a year later, I learned about Tony Meléndez a Nicaraguan guitarist born without arms. He encouraged me very much.
Showji: That's exactly who I saw on TV.
Q: Both of you hadn't seen anyone with physicality like yourselves when you started playing the guitar. How did you create your playing styles?

Johnatha plays the piano at THE CONCERT. (C)True Colors Festival THE CONCERT 2022
Johnatha: I play the piano, so I was familiar with the musical vocabulary. However, I didn't know the guitar at all. I first learned to pluck it, and then I figured out how to change the notes by holding the strings with my feet.
Showji: I grew up without ever playing an instrument, so I first studied the structure of the guitar, how chords work, and music theory. Then I figured out ways that sounded right to me.
Q: Were there difficulties before you could play well?
Johnatha: In the beginning, holding down chords was just so painful. I forced my fingers to open wide, which injured my feet. People would tell me, "Feet aren't for playing guitars." (laughs) But these feet are what God gave me. I put aside the schoolwork and practiced the guitar tirelessly.
Showji: I can only play bar chords, so I change the guitar tuning according to the songs. It takes a lot of work to come up with the correct tunings. But practicing is fun; I never considered it difficult. Of course, problems like skin throbs and peelings happened, but none were significant.
Johnatha: Every guitarist would go through that phase.
Showji: Exactly. Feet may even be better since the skin is thicker. (laughs)
Johnatha: You have a point on that! (laughs)
Showji and Johnatha explain their playing styles.
Q: Could you explain how you play?
Showji: At first glance, you may think my guitar is a regular guitar, but it's custom-made. It's a little smaller for an easier hold. A Roland guitar synthesizer is built-in at the pick-up, which I tune with an iPad. My grip squeeze is only about 1kg, and my picking is too weak to have a long sustain, so I add the synth to make up for it. I can only hold bar chords. But when I discovered the E minor is played with the top three strings open, I realized I could hold down at different frets to play the F minor, G minor, and so on.
My guitar pedals are almost the same as Johnatha. I mount them on a slanted platform and stomp with the front of my wheelchair.
Showji: It's pretty easy for me to play a solo as long as I have the guitar tuned. However, I can't improvise, so I have a few phrases ready and switch between them within the session. That takes a bit of brain power. In the past, I needed multiple guitars tuned for each song, but with the advancement in technology, I now only need one guitar—what a time.
Johnatha: That's amazing. I understand how difficult it is to program, so it's impressive how you use the technology to your advantage. There's a sound of intellect in your playing. I'm not very good with technology and just began playing around with a DAW. It's super intriguing. But first and foremost, your work is so musically beautiful.
*DAW: Short for Digital Audio Workstation, a music production software.
Showji: Thanks! I saw Tony Meléndez play, guessed he could be playing the bar chords and tried it myself. That was a great tip. Is it the same for you? I'm interested in how you play.
Johnatha: I didn't want to customize a guitar, I thought I wouldn't be able to play other guitars, so I tried to tune myself to the guitar. I first mastered the open G chord and then a C major. Then I practiced using my pinky and learned to hold down with the hump below the thumb, just like you do with your hands. I need to play chords when I jam with other people, but I enjoy playing single notes more.

Playing chords by utilizing his fingers and toes. Photo: Shinya Watabe
Showji: Your solos on YouTube come to my mind when I think of you. I can imagine how you played, but how you played the chords was a mystery, so you solved my puzzle today.
Johnatha: My pleasure. I love guitarist Juninho Afram from the band Oficina G3; this guitar is his model. Juninho uses slides a lot. I also incorporate his phrases and mix them with pentatonic scales.
Showji: Seeing you play up close, there are techniques I click with, and there are also new ideas. I'll have to think of ways to incorporate them into my playing.
Q: Do each of your playing styles have solid points and merits that standard guitar playing doesn't offer?
Johnatha: I've never considered that. I just developed this style for myself, always playing to improve.
Showji: Many people give up the guitar when they hit the F chord. But if you utilize devices to tune, as I do, the F chord becomes very straightforward. My style would let more people play the guitar.
Also, my hands shake when I put pressure on them, which lets me shred the guitar (laughs). I can't do it for long, maybe just for a bar. But that's perhaps unique to me.
Accepting the disability and title "wheelchair guitarist" when realizing the skill is the focal point.

Photo: Shinya Watabe
Q: Were there any difficult times, or have you ever thought of quitting?
Johnatha: The first technique that I stumbled upon was sweep picking. I thought I wasn't ever going to get it. But one day, I saw on YouTube, a person with a hand disability sweep picking. I was ashamed that I was about to give up, and I gave up giving up.
Showji: I have a slightly different experience than Johnatha. I don't try and conquer what I can't do, but rather improve my already-acquired skills to create a new tone. Thinking about how I can achieve that excites me. Quitting has never crossed my mind. I wouldn't be myself without the guitar.
Alvin Law, who drums with his feet, declared yesterday at THE CONCERT that he'll become "a rockstar." It reminded me of when I first started the guitar and re-ignited a fire under me.

Alvin Law (C)True Colors Festival THE CONCERT 2022
Johnatha: Playing with players with different styles and characters can boost our motivation.
Q: Contrary to the last question, what are your favorite moments as a musician?
Johnatha: The happiest is when I succeed at conveying my message. It seems a lot of people forget to believe in God and themselves. I was born with a disabled body, but I have overcome hardships by believing in God and myself. It's gratifying when I feel that that message is genuinely received. Also, when I smash the solo I practiced a lot.
Showji: Mine's not as powerful as Johnatha, but I insist on playing in bands. I'm grateful to play in a band with a drummer, bassist, vocalist, etc. That's where I feel I belong, that I am worthy. If a message of co-living takes shape as a by-product of our playing, with or without disability, that's pretty neat.
Johnatha: When I saw Showji perform, I thought it was perfect. Embracing your beliefs and putting them out there is so inspiring.

Photo: Shinya Watabe
Q: Are there any particular episodes you remember throughout your career?
Johnatha: I played on a TV show in Brazil, and a lady had seen it and contacted me. She said she was contemplating suicide, but my performance gave her the courage to live. It gave me so much happiness and is something I'll forever remember.
Showji: When I was 20 years old, I competed in a contest sponsored by Yamaha and made it to the finals. They gave me the Best Guitarist Award. At the time, I wasn't excited about it. I heard that I was the first person with a disability to compete, so I thought of it as a consolation prize handed out of pity. I was pretty spiteful back then. (laughs)
After the show, I asked the judges about it, and they told me, "That'd be disrespectful to the other contestants. We found you the best tonight, so we gave you the award." I had hated being called the "wheelchair guitarist" and suspected them of treating me differently from others. However, hearing that they judged the contestants fairly, accordingly to their skills, I realized that there were people who saw me and that I was the one who wasn't believing in myself. I think that was the first time I accepted my disability. I thought, who cares if people called me a wheelchair guitarist?

Photo: Shinya Watabe
If you can't do things, you can find ways to overcome them.
Q: Do you have any dreams for the future?
Johnatha: I will continue representing faith and the power of life. I'd also like to improve and gain opportunities to play at new places for new audiences.
Showji: I'm about two decades older than Johnatha, and although my illness is not progressive, I feel my body will weaken faster than standard bodies. Honestly, I get a bit uneasy thinking about how much longer I can play the guitar. But, when I was in my 30s, I thought, I may not be playing in my 50s, but here I am playing, so I hope to keep going. I want to show my daughter how cool her dad is for as long as possible.
Johnatha: I'm sure you'll be playing forever (laughs).
Showji: That may come true. Let's jam someday.
Johnatha: Most definitely! I'd love for that to happen.

Photo: Shinya Watabe
Q: Could you address those who, like the two of you, have some disability but want to get into playing music?
Johnatha: Many stumbles and gives up in the beginning. Even if there are things you can't do, if you find your way of overcoming those, you will get it. I'd love for us to set an example.
Showji: I couldn't agree more. The textbook passages on "How to hold a chord" are meaningless to me and Johnatha. But that also shows how much freedom there is in music. You have to cherish the passion you felt in the beginning. If you hold on to that, the rest will materialize with ideas. Please give anything a go.
Interview/Text: Emiko Hida, Photo: Shinya Watabe, Portugal interpretation: Shoko Hattori
Japanese-English translation: Moe Ishii