2019.09.30
"WEAR YOUR True Colors Project" – First Round of Participating Artist!
"WEAR YOUR True Colors" - a project where artists, designers, and musicians who embrace diversity design T-shirts with their messages is officially launched! We are excited to announce the first round of designs by six artists.

These T-shirts will be sold at True Colors Dance on September 10 and True Colors BEATS on October 22.
"We are naturally all different, but being different is difficult and lonely. At the same time difference is what connects us with others. Since when did it become so extreme to be different? Isn't it more extreme to be the same? Maybe the various differences in gender, sexuality, and religion are things that take time to understand. I hope that I can continue to communicate a perspective that accepts all differences based on the fact that we are all different to begin with."
Message by JUN(Editor in Chief of NEUT Magazine)
Design by Reijiro Mochizuki
Price:¥3,900 (with tax)
Color:white
Size:XL
JUN

JUN was born in Kanagawa, Japan in 1992 and is the editor in chief of NEUT Magazine. After graduating from Seikei University, he joined the editorial department of socially aware web magazine "Be inspired!" After becoming the editor in chief, in October of 2018, he published the inaugural issue of NEUT Magazine, which promotes "a neutral perspective for living a life without being restricted by conventional values."

Reijiro Mochizuki

Mochizuki is a painter and artists that expresses in various forms. He practiced in calligraphy and photograph since a young age. Survival Drive is his most known work, which is a publication with a collection sketches that he made while travelling through Japan. He is now based in Tokyo where he records the changing landscape of the city. He is the founder of guerrilla newspaper NEWTOKYOPOST.
"DON'T CROSS THE LINE.
JUMP OVER!"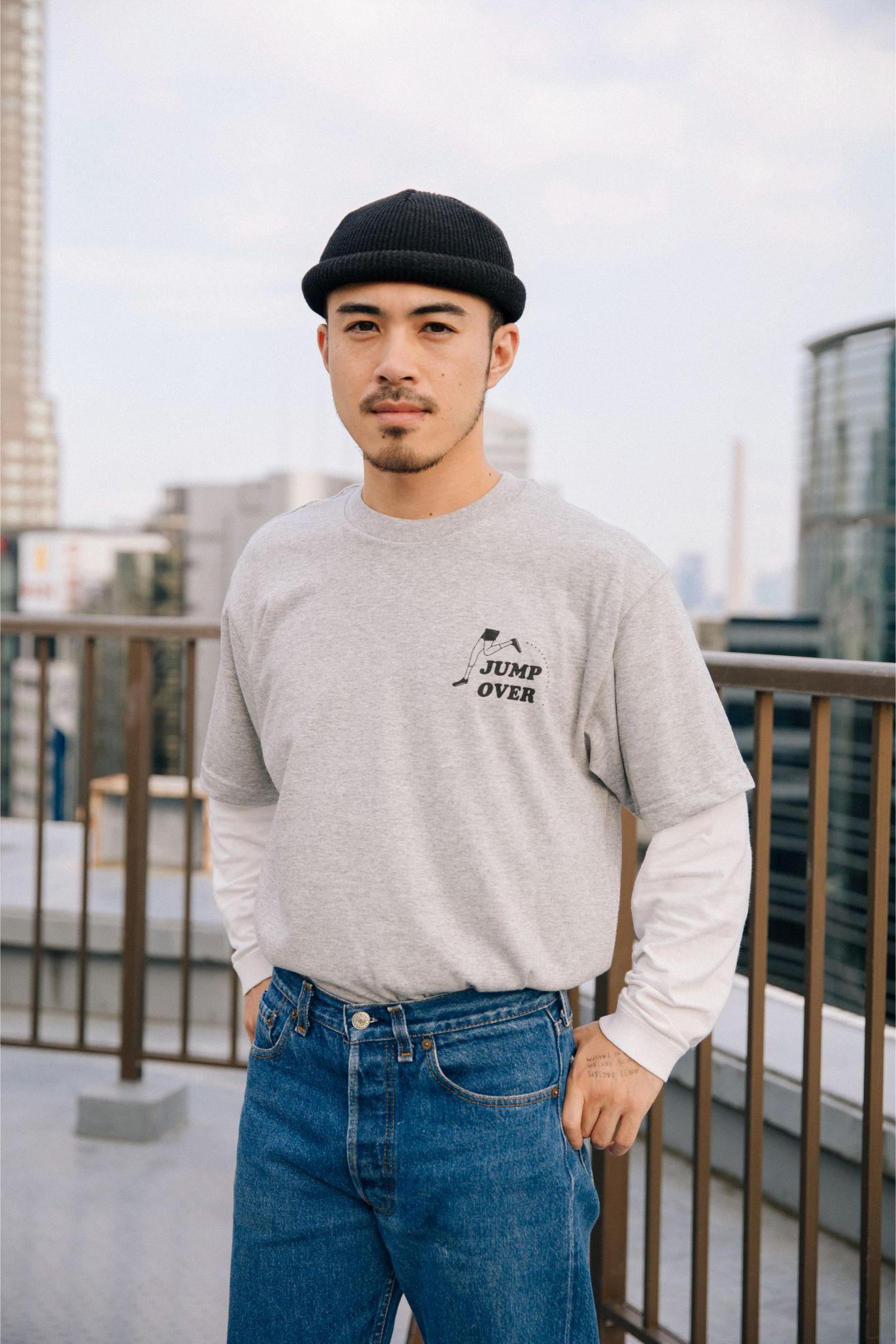 "This message was inspired from the story when the police told participants of a PRIDE parade to not "cross the line" and they responded by chanting "then let's jump over the line" and continued to march. I learned about this story in one of the pieces by art group Dumb Type. I hope to always have the courage to jump over the line to fight against discrimination and prejudice, and advocate for mutual understanding."
Message and design by Fuyuki Kanai
Price:¥3,900(with tax)

Color:Gray

Size:L
Fuyuki Kanai

Kanai is an illustrator and comic artist who also writes essays and texts that are he compiles and self-publishes as zines. He mixes personal experiences and political issues in hopes to capture even the slightest characteristic of queerness and address this through his expression.
"I have become skilled to find a shard of light within a devastating reality. I fight every day in order to carry this with me into the future. That person next to me is fighting too. I say in a quiet voice: "Please let that person find warmth in their heart and exhausted body and may they live long forever." Not the best or invincible, but surviving each day – I am the future."
message and design by haru.
Price:¥3,900 (with tax)
Color:Burgundy, yellow

Size:M, XL
haru.

haru was born in 1995. While studying at Tokyo Art University, she founded independent magazine HIGH(er) magazine as its editor in chief with artists of her generation. After collaborating with various brands she established HUG. As its Director, she produces content and manages artists with a mission to deliver new values.
"Pink is a color for the possibility of prosperity. It also includes dangerous things, but this message is to show respect for the courage and human deeds that to face up to the challenges."
Message by Masao Toda
Design by Nuca
Price:¥3,900 (with tax)
Color:White, black

Size:L
Masao Toda

Toda likes to ponder about issues that are dire to him, differences he feels with others, and things that touch his heart. In 2014, he produced his first "Tomidamikuji" and opened "Todanoma." He has setup shop in outdoor markets, art exhibitions and live events. In 2016, he produced a poetry reading piece "TODA club Soramimi Hour" where he read his poems. Two times a week he commutes to life-care support facility Nuca – Tsukurutoko.

Nuca

Nuca is a transient place where people can examine small things that happen in life, be happy and sad about it, and can succeed or fail. With its foundation in life-care support, Nuca is a welfare facility where people can live as themselves through art. It's unusual name comes from "Nukadoko" – a rice bran bed for fermenting and making pickles. Things that may seem intimidating at first, can present new values that where unnoticed when you change the angle to look at it. We hope that such values and individual interests can ferment over time and spread through society like the Nukadoko.
Operations: Nuka Tsukurutoko (Life care support facility), Atelier Nucagokko (Afterschool, temporary, and general welfare services)
Operating Office: Nuca Ltd.
http://nuca.jp/
"Wakuwaku Science, Oshogatsu Hatsumoude, Kanazawa Ski, Omadetsuri, Mimi Wo Sumareba, Yoru Shichiji Sanjyuppun, Nanishireruten"
Unique words are written with pieces of plastic straws placed on cardboard: "Yoru Shichiji Sanjyuppun", "Nanishiteruten", "Wakuwaku Science", "Mimi Wo Sumareba", "Kanazawa Ski", "Omadeturi" and so on. It is unclear if these words come from what Mr. Ichida experienced himself, or if they were something he saw on TV. Sometimes they come from what he did on his days off. "Ichida Plastic Straw Sign Shop" is a workshop made from Mr. Ichida's plastic straw letters.
Message by Makoto Ichida

Design by Yu
Price:¥3,900 (with tax)

Color:White
Size:M
Makoto Ichida

Mr. Ichida paintings are always cute. Plants and animals are deformed, and his pieces made with simple shapes and colors look like colorful textiles from Scandinavia. His works includes signage made from plastic straws, original artwork, and cardboard boxes of snacks (with the inside already eaten) taken apart and tied together with scotch tape. Additionally, he makes daily works, which incorporate words that are inspired by things he did on his days off.
"Believe in your TRUE COLOR"
Message by RYUCHELL

Design by Ms.Little Chico
RYUCHELL
price:¥4,900(税込)
color:white
size:130, XL
RYUCHELL

Ryuchell is an artist and television personality born on September 29, 1995 in Okinawa. After graduating from high school he decided to move to Harajuku to express his true self. Starting his career as an amateur fashion model, Ryuchell soon became a nation-wide television personality. In 2018, he was named as the "Shibuya Diversity Evangelist" by the mayor of Shibuya City. In April 2019, he released his first album SUPER CANDY BOY, and continues to send his message through various forms of media.
Venues where you can purchase
True Colors BEATS
Tuesday, October 22, 2019 12:00~18:00
Place:Yoyogi Park Outdoor Stage
Charge:Free admission